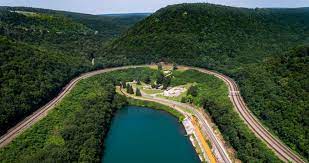 An afternoon drive into the countryside is one of the many treasures of Blair County. Surrounding Altoona are acres of beautiful farmland with unique sites and experiences offered in each season. Welcome to one of the richest agricultural areas in Pennsylvania.
Springtime brings flowers blooming along the backroads. Summer has young horses and cows meandering along green pastures. Fall offers walks through corn mazes and hay rides under a canopy of red, orange and yellow.
Throughout the year, you'll find roadside farms where families sell fresh cheeses and honey, homegrown fruits and vegetables, homemade pies and jams and handmade heirlooms. At some point in your trip, you'll almost certainly pass a horse and buggy of our local Plain community.
Key Spots
Sinking Valley
Morrison's Cove
Locke Mountain
Wopsononock Mountain
Scotch Valley