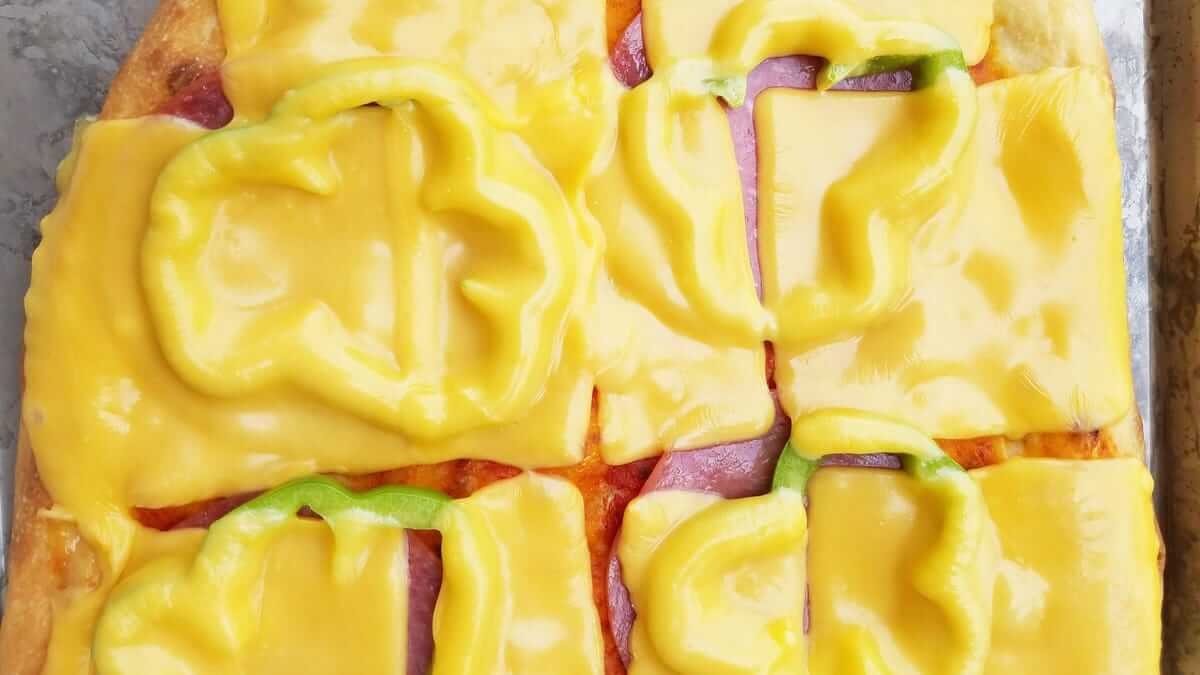 Altoona Style Pizza is truly a local delicacy for many residents in the city of Altoona, PA. Originally created by the Altoona Hotel, the pizza is described as having a Sicilian crust, with marinara sauce, and topped with salami, green peppers, and the star of the show… slices of American cheese. It has fascinated many people across the country after it went viral on Twitter and caused much debate. The Altoona Style Pizza debate makes the pineapple on pizza debate seem silly. That being said, the best way to find your stance on the debate is to try it yourself. While you are in Altoona, make sure to hit up 29th Street Pizza on 5th Ave, Zach Sports Bar, and CO"BRHS" II on 6th Ave. If you don't want to wait until your trip to Altoona to try, you can make it at home yourself.
There are many ways you can attempt to make this unique dish, however, the most authentic way is to start from scratch and make the dough yourself. You can also use pre-made pizza dough as well. Check the recipe below for more information. You can skip the pizza dough recipe if you are using pre-made dough.
Pizza Dough Recipe
Serving:
For one 10″ round
DOUBLE THIS DOUGH RECIPE TO MAKE THE SHEET PAN:
Tip: Par-bake your crust, then flip it on the sheet pan. THEN add your toppings and finish baking it off.
Ingredients:
1 tsp yeast
¾ C bread flour
¾ C self-rising flour
¾ C warm water
½ tsp olive oil
¼ tsp. garlic powder
1 tsp sea salt
Pinch of sugar
½ tsp honey
Steps:
Dissolve yeast, a pinch of sugar in a ¼ C of warm water.
Once proofed, add remaining ingredients (only ½ C water additional) and mix with the end of a wooden spoon
Cover with plastic wrap and let sit in a warm place for a few hours.
Overnight is best. So, try to plan ahead. But allow at least 8 hours for this step.
Turn out onto a floured board, knead and form into a round ball.
Oil bowl it came out of and place the ball into bowl and cover to coat.
Allow it to rise in a warm place for another one or two hours.
Altoona Style Pizza Recipe
Ingredients:
1½ green peppers sliced
½ lb cooked salami, sliced
1 lb Velveeta, sliced or any yellow cheese
Pizza dough
Tomato sauce (For an authentic taste, use Delgrosso's Tomato Sauce which is native to Altoona)
Steps:
Place your dough on the pan
Add your tomato sauce, salami, and green peppers on each square-slice-to-be
Parbake your dough in the oven
Add your choice of American cheese on top
Place your parbaked dough into a hot oven for 1-5 minutes which will melt the cheese
Enjoy!